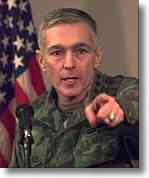 Tvoeto nebe e veche nashe !
Tvoiata zemia e veche nasha !
Sveshteniat simvol na predcite ti e veche nash !
Makedonia e veche nasha !
---
VOENNA HRONIKA OT BYLGARIA
---
[Sedmica Pyrva] [Sedmica Vtora] [Sedmica Treta] [Sedmica Chetvyrta] [Sedmica Peta] [Sedmica Shesta] [Sedmica Sedma] [Sedmica Osma] [Sedmica Deveta] [Sedmica Deseta] [Sedmica Edinadeseta] [Sedmica Dvanadeseta] [Sedmica Trinadeseta] [Sedmica Chetirinadeseta] [Sedmica Petnadeseta] [Sedmica Shestnadeseta]

Bylgari, zaginali po vreme na "nashite" NATO-bombandirovki nad Yugoslavia:

1. Stamen Rangelov (61) ot selo Bozhice, Surdulica.
2. Simeon Todorov (31) ot Stalach.
3. Boris Eremijev (60) ot Klisura
4. Ivan Stankov (?) ot Nish



18.03.2000 g.

Za osobeni "zaslugi" general Uesli Klark beshe nagraden s orden "Madarski konnik" I stepen ot prezidenta na Bylgaria Petyr Stoianov (13.03.2000).



18.01.2002 g.
Dnes stana iasno, che NATO postavia na Bylgaria uslovie za chlenstvo v Aliansa i EU - priznavaneto na "makedonskia" ezik i "makedonskata" nacia. Sirech, "Zabravete za Makedonia", kakto kazva edin priatel na NATO v Bylgaria.

---
BALKANITE PROSHTAVAT, NO NE ZABRAVIAT !!!
---
VRYZKI
[News-bg] [brigada.gyuvet.ch] [Zona 168] [CNN] [BNR]

---
SVETYT ZA MIR

[Counter Punch] [Association Of State Green Parties] [FOR] [Green Parties USA] [International Action Center] [MADRE] [NETWORK ] [Peace Action] [Protest.net] [WAND] [Veterans for Peace] [War Resisters League] [Project Ploughshares/Canada] [Committee for Peace in the Balkans/UK] [TFF] [Stop the War.Com] [Committee Against US Intervention] [Truth in Media] [Campaign]
---
edna stranica na ziezi ex quo vulgares
e-mail: emko@mail.techno-link.com
Broi poseshtenia
ot 04.05.1999 g.